4 Diverse Oregon High Schools Rise to Top
The Oregonian newspaper examined Smarter Balanced scores throughout the state and discovered four Oregon high schools that "outperformed the rest." The reason? The schools' dedication to teaching Common Core State Standards in math and English language arts.
An excerpt of the story is below, and you can read the full version at The Oregonian's website:
Four Oregon high schools outperformed the rest, equipping two-thirds or more of their students with the writing, reasoning, research and math skills they'll need in college and in life, new test scores indicate.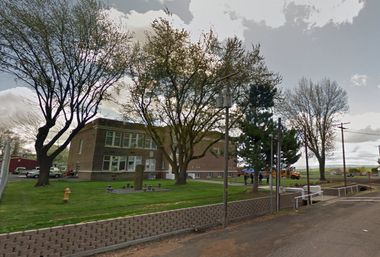 Tiny Helix High (pictured to the right) is situated in the middle of vast arid farmlands. All 16 members of the senior class passed the Smarter Balanced reading and writing test last spring.
The schools could not be more different. One, Helix, is set amid farmland and has a senior class of 16, while another, Lakeridge, enrolls 1,200 Lake Oswego teens. The others are small-town Elmira and suburban Wilsonville high schools.
But they all embrace the nation's new college-ready standards, the Common Core. They show that an Oregon school can propel nearly all its students to that level, even when parents aren't perfect, funding is tight and a growing share of students are low-income or non-white. …
Those schools managed to help roughly two-thirds of their students pass the difficult Smarter Balanced math test, twice the rate schools achieved statewide. And they saw from 89 percent of students (Elmira) to 100 percent (Helix) conquer the English exam, which requires excellence in reading, writing, listening and research.
Read the full version of the story.