Back-to-School Reading List to Celebrate National Hispanic Heritage Month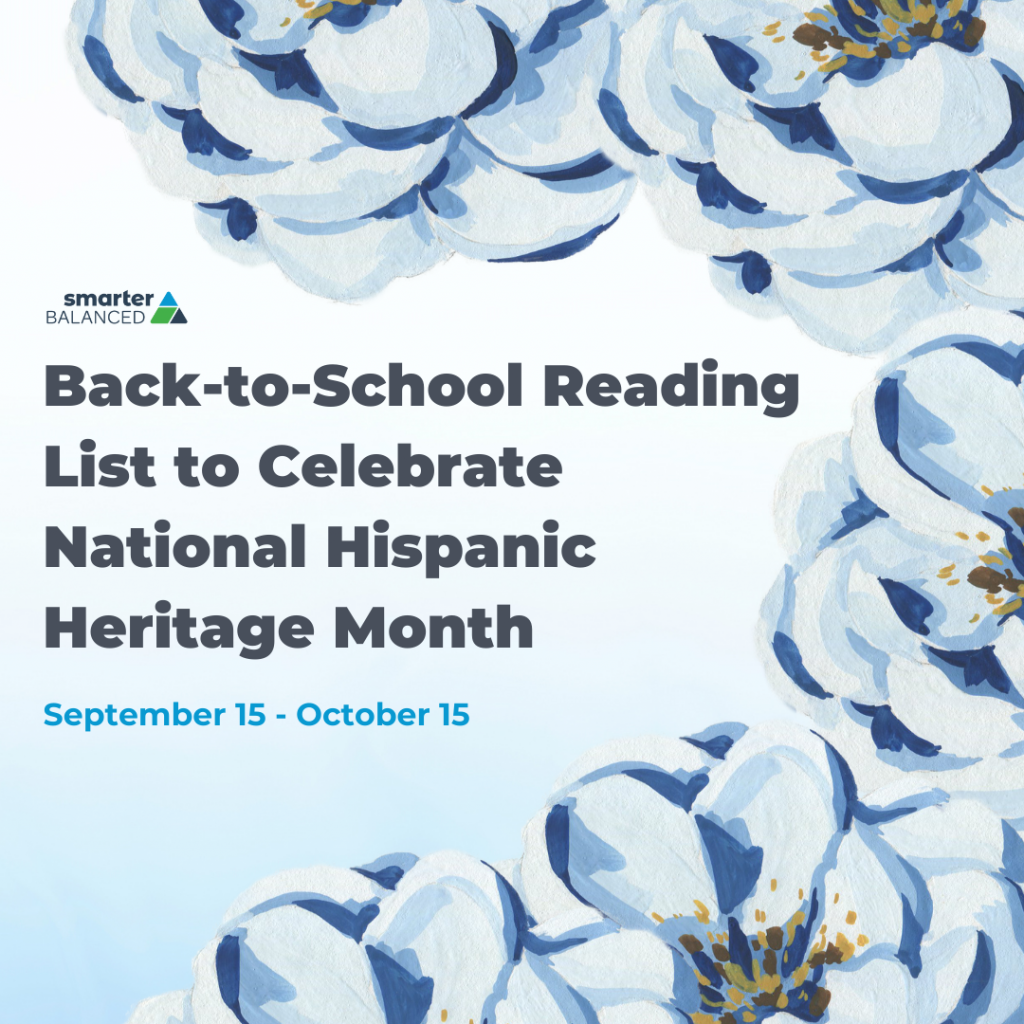 National Hispanic Heritage Month (September 15 – October 15) is celebrated annually to commemorate and celebrate the many contributions the Hispanic community has made and continues to make, historically and culturally, in the United States. Beginning in 1968 as Hispanic Heritage Week, President Ronald Regan extended the observance to 30-days in 1988. 
Smarter Balanced is celebrating National Hispanic Heritage Month with a list of books to incorporate into the back-to-school season. The following books celebrate Hispanic characters, stories, authors, and inclusive content- organized by grades 3-12. 
Discover and explore an abundance of specifically selected resources for teachers to further educate themselves and their students about National Hispanic Heritage Month and incorporate Hispanic heritage into the classroom by checking out the "For Teachers" tab in HispanicHeritageMonth.gov.
Elementary School Grades 3-5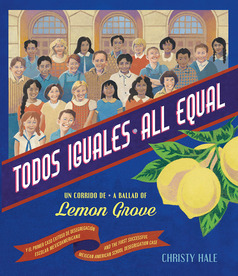 Todos Iguales/All Equal: Un Corrido De Lemon Grove/A Ballad of Lemon Grove
by Christy Hale
Publisher Description
Roberto Álvarez loved school. Along with other Mexican American children, he attended the Lemon Grove School, where all students—Mexican American and Anglo—studied together as equals.

In the summer of 1930, the Mexican families learned of a plan to segregate their children in a small, inferior school. Refusing to let this happen, the parents organized. They filed a lawsuit against the school board, with twelve-year-old Roberto as the plaintiff. On March 12, 1931, the judge announced his ruling, supporting the children's right to equal education. The Mexican American students were immediately reinstated in the Lemon Grove School to learn as equals once again.

With captivating illustrations inspired by vintage citrus crate labels, Christy Hale brings to life the little-known story of the first successful Mexican American school desegregation case in the United States. It stands as an empowering testament to an immigrant community and its tenacity in the fight for educational equality.


Latinitas: Celebrating 40 Big Dreamers
by Juliet Menéndez
Publisher Description
Dream big with the Latinitas in Latinitas: Celebrating 40 Big Dreamers. Discover how 40 influential Latinas became the women we celebrate today! In this collection of short biographies from all over Latin America and across the United States, Juliet Menéndez explores the first small steps that set the Latinitas off on their journeys. With gorgeous, hand-painted illustrations, Menéndez shines a spotlight on the power of childhood dreams.

From Supreme Court Justice Sonia Sotomayor to singer Selena Quintanilla to NASA's first virtual reality engineer, Evelyn Miralles, this is a book for aspiring artists, scientists, activists, and more. These women followed their dreams―and just might encourage you to follow yours!

The book features Sor Juana Inés de la Cruz, Juana Azurduy de Padilla, Policarpa Salavarrieta, Rosa Peña de González, Teresa Carreño, Zelia Nuttall, Antonia Navarro, Matilde Hidalgo, Gabriela Mistral, Juana de Ibarbourou, Pura Belpré, Gumercinda Páez, Frida Kahlo, Julia de Burgos, Chavela Vargas, Alicia Alonso, Victoria Santa Cruz, Claribel Alegría, Celia Cruz, Dolores Huerta, Rita Moreno, Maria Auxiliadora da Silva, Mercedes Sosa, Isabel Allende, Susana Torre, Julia Alvarez, Sandra Cisneros, Sonia Sotomayor, Rigoberta Menchú Tum, Mercedes Doretti, Sonia Pierre, Justa Canaviri, Evelyn Miralles, Selena Quintanilla, Berta Cáceres, Serena Auñón, Wanda Díaz-Merced, Marta Vieira da Silva, Alexandria Ocasio-Cortez, and Laurie Hernandez.

Latinitas is also available in Spanish.
Nuestra América: 30 Inspiring Latinas/Latinos Who Have Shaped the United States
by Sabrina Vourvoulias
Publisher Description
Celebrate 30 influential Latinas/Latinos/Latinxs in U.S. history with Nuestra América, a fully-illustrated anthology from the Smithsonian Latino Center.

Nuestra América highlights the inspiring stories of thirty Latina/o/xs throughout history and their incredible contributions to the cultural, social, and political character of the United States. The stories in this book cover each figure's cultural background, childhood, and the challenges and opportunities they met in pursuit of their goals. A glossary of terms and discussion question-filled reading guide, created by the Smithsonian Latino Center, encourage further research and exploration. Twenty-three of the stories featured in this anthology will also be included in the future Molina Family Latino Gallery, the first national gallery dedicated to Latina/o/xs at the Smithsonian.

This book is a must-have for teachers looking to create a more inclusive curriculum, Latina/o/x youth who need to see themselves represented as an important part of the American story, and all parents who want their kids to have a better understanding of American history. Featuring beautiful portraits by Gloria Félix, this is a book that children (and adults) will page through and learn from again and again.

Nuestra América profiles the following notable figures: Sylvia Acevedo, Luis Álvarez, Pura Belpré, Martha E. Bernal, Julia de Burgos, César Chávez, Sandra Cisneros, Roberto Clemente, Celia Cruz, Olga E. Custodio, Óscar de la Renta, Jaime Escalante, Macario García, Emma González, Laurie Hernández, Juan Felipe Herrera, Dolores Huerta, Jennifer Lopez, Xiuhtezcatl Martínez, Sylvia Méndez, Lin-Manuel Miranda, C. David Molina, Rita Moreno, Ellen Ochoa, Jorge Ramos, Sylvia Rivera, María Elena Salinas, Sonia Sotomayor, Dara Torres, and Robert Unanue.

Middle School Grades 6-8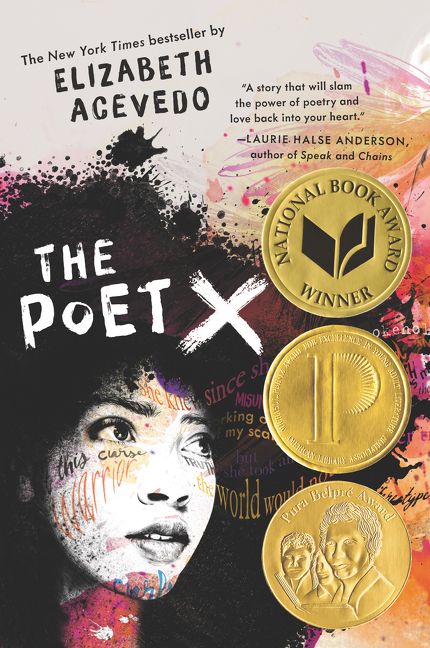 The Poet X
by Elizabeth Acevedo
Publisher Description
Xiomara Batista feels unheard and unable to hide in her Harlem neighborhood. Ever since her body grew into curves, she has learned to let her fists and her fierceness do the talking.

But Xiomara has plenty she wants to say, and she pours all her frustration and passion onto the pages of a leather notebook, reciting the words to herself like prayers—especially after she catches feelings for a boy in her bio class named Aman, who her family can never know about.

With Mami's determination to force her daughter to obey the laws of the church, Xiomara understands that her thoughts are best kept to herself. So when she is invited to join her school's slam poetry club, she doesn't know how she could ever attend without her mami finding out. But she still can't stop thinking about performing her poems.

Because in the face of a world that may not want to hear her, Xiomara refuses to be silent.
Living Beyond Borders: Growing up Mexican in America
by Margarita Longoria
Publisher Description
Twenty stand-alone short stories, essays, poems, and more from celebrated and award-winning authors make up this YA anthology that explores the Mexican American experience.

With works by Francisco X. Stork, Guadalupe Garcia McCall, David Bowles, Rubén Degollado, e.E. Charlton-Trujillo, Diana López, Xavier Garza, Trinidad Gonzales, Alex Temblador, Aida Salazar, Guadalupe Ruiz-Flores, Sylvia Sánchez Garza, Dominic Carrillo, Angela Cervantes, Carolyn Dee Flores, René Saldaña Jr., Justine Narro, Daniel García Ordáz, and Anna Meriano.

In this mixed-media collection of short stories, personal essays, poetry, and comics, this celebrated group of authors share the borders they have crossed, the struggles they have pushed through, and the two cultures they continue to navigate as Mexican Americans. Living Beyond Borders is at once an eye-opening, heart-wrenching, and hopeful love letter from the Mexican American community to today's young readers.

A powerful exploration of what it means to be Mexican American.
Sanctuary
by Paola Mendoza and Abby Sher
Publisher Description
Co-founder of the Women's March makes her YA debut in a near future dystopian where a young girl and her brother must escape a xenophobic government to find sanctuary.

It's 2032, and in this near-future America, all citizens are chipped and everyone is tracked–from buses to grocery stores. It's almost impossible to survive as an undocumented immigrant, but that's exactly what sixteen-year-old Vali is doing. She and her family have carved out a stable, happy life in small-town Vermont, but when Vali's mother's counterfeit chip starts malfunctioning and the Deportation Forces raid their town, they are forced to flee.

Now on the run, Vali and her family are desperately trying to make it to her tía Luna's in California, a sanctuary state that is currently being walled off from the rest of the country. But when Vali's mother is detained before their journey even really begins, Vali must carry on with her younger brother across the country to make it to safety before it's too late.

Gripping and urgent, co-authors Paola Mendoza and Abby Sher have crafted a narrative that is as haunting as it is hopeful in envisioning a future where everyone can find sanctuary.
High School Grades 9-12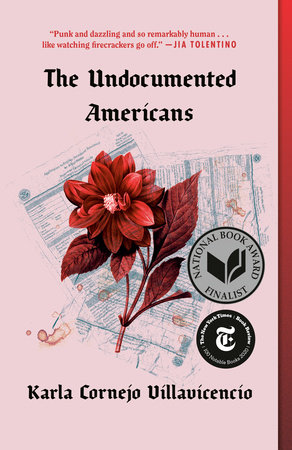 The Undocuemented Americans
by Karla Cornejo Villavicencio
Publisher Description
Writer Karla Cornejo Villavicencio was on DACA when she decided to write about being undocumented for the first time using her own name. It was right after the election of 2016, the day she realized the story she'd tried to steer clear of was the only one she wanted to tell. So she wrote her immigration lawyer's phone number on her hand in Sharpie and embarked on a trip across the country to tell the stories of her fellow undocumented immigrants—and to find the hidden key to her own.

Looking beyond the flashpoints of the border or the activism of the DREAMers, Cornejo Villavicencio explores the lives of the undocumented—and the mysteries of her own life. She finds the singular, effervescent characters across the nation often reduced in the media to political pawns or nameless laborers. The stories she tells are not deferential or naively inspirational but show the love, magic, heartbreak, insanity, and vulgarity that infuse the day-to-day lives of her subjects.

In New York, we meet the undocumented workers who were recruited into the federally funded Ground Zero cleanup after 9/11. In Miami, we enter the ubiquitous botanicas, which offer medicinal herbs and potions to those whose status blocks them from any other healthcare options. In Flint, Michigan, we learn of demands for state ID in order to receive life-saving clean water. In Connecticut, Cornejo Villavicencio, childless by choice, finds family in two teenage girls whose father is in sanctuary. And through it all we see the author grappling with the biggest questions of love, duty, family, and survival.

In her incandescent, relentlessly probing voice, Karla Cornejo Villavicencio combines sensitive reporting and powerful personal narratives to bring to light remarkable stories of resilience, madness, and death. Through these stories we come to understand what it truly means to be a stray. An expendable. A hero. An American.
All Stars Denied
by Guadalupe Garcia McCall
Publisher Description
In the heart of the Great Depression, Rancho Las Moras, like everywhere else in Texas, is gripped by the drought of the Dust Bowl, and resentment is building among white farmers against Mexican Americans. All around town, signs go up proclaiming No Dogs or Mexicans and No Mexicans Allowed.

When Estrella organizes a protest against the treatment of tejanos in their town of Monteseco, Texas, her whole family becomes a target of repatriation efforts to send Mexicans back to Mexico whether they were ever Mexican citizens or not. Dumped across the border and separated from half her family, Estrella must figure out a way to survive and care for her mother and baby brother. How can she reunite with her father and grandparents and convince her country of birth that she deserves to return home?

There are no easy answers in the first YA book to tackle this hidden history. In a companion novel to her critically acclaimed Shame the Stars, Guadalupe Garcia McCall tackles the first mass deportation event that swept up hundreds of thousands of Mexican American citizens during the Great Depression.
American Street
by Ibi Zoboi
Publisher Description
On the corner of American Street and Joy Road, Fabiola Toussaint thought she would finally find une belle vie—a good life.

But after they leave Port-au-Prince, Haiti, Fabiola's mother is detained by U.S. immigration, leaving Fabiola to navigate her loud American cousins, Chantal, Donna, and Princess; the grittiness of Detroit's west side; a new school; and a surprising romance, all on her own.

Just as she finds her footing in this strange new world, a dangerous proposition presents itself, and Fabiola soon realizes that freedom comes at a cost. Trapped at the crossroads of an impossible choice, will she pay the price for the American dream?
If you're looking for a wider variety of books celebrating Hispanic Heritage, we recommend the Scholastic's "17 Books to Celebrate Hispanic Heritage" book list for grades PreK-12, published on September 30, 2021.