COVID-19 News, Resources, and Updates from Smarter Balanced States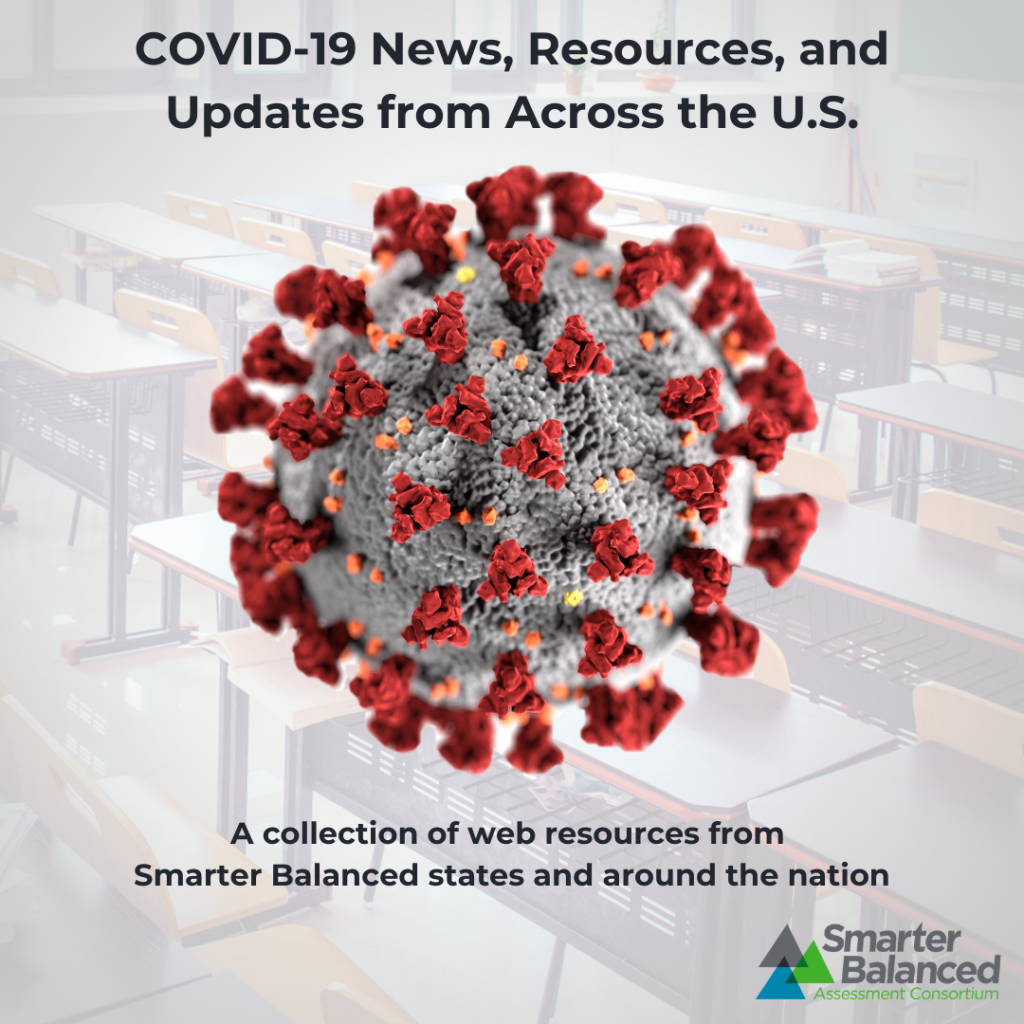 COVID-19 is causing school closures, shifts to e-learning, and changes in testing schedules, creating unprecedented challenges for educators and families.
Below, we've compiled links to national and Smarter Balanced members' state information pages as a means to leverage knowledge across the consortium.
National
U.S. Department of Education COVID-19 ("Coronavirus") Information and Resources for Schools and School Personnel
Education Week: Interactive map of school closures across the US
California
California Department of Education Coronavirus COVID-19 Resource page
Additional resource for CA updates: EdSource Education and Coronavirus: What's the Latest?
Connecticut
State of Connecticut Coronavirus Disease 2019 (COVID-19) School Resources
Delaware
Delaware Department of Education COVID-19 Resources
Hawaii
Hawaii State Department of Education HIDOE COVID-19 Information and Updates
Idaho
Idaho State Department of Education Superintendent of Public Instruction Statement
Idaho State Government Coronavirus Information: Resources for Parents and Schools
Indiana
Indiana Department of Education COVID-19 Resources for Indiana Schools
Governor's Office: Governor Holcomb Announced New Steps to Protect Public from CONVID-19
Michigan
Michigan Department of Education Coronavirus Disease 2019 (COVID-19) Communications
State of Michigan Government Coronavirus Resources for Schools and Colleges
Montana
Montana Office of Public Instruction COVID-19 Information for Schools
Nevada
State of Nevada Health Response Information for Schools & Families
State of Nevada Department of Education COVID-19 Resources
Oregon
Oregon Department of Education COVID-19 Resources
South Dakota
South Dakota Department of Education Novel Coronavirus (COVID-19) Information for Schools
US Virgin Islands
The Virgin Islands Department of Education: COVID-19 Resources for Students and Families
Vermont
State of Vermont Agency of Education COVID-19 Guidance for Vermont Schools
Vermont Public Health Response Novel Coronavirus (COVID-19)
Washington
Washington Office of Superintendent of Public Instruction Novel Coronavirus (COVID-19) Guidance & Resources