Exploring Test Content is Smarter Than Ever
New updates to Smarter Content Explorer make it even easier to understand what's being assessed on Smarter Balanced tests
Smarter Content Explorer now helps educators better understand which tests assess specific learning targets, so they can select interim tests that measure precisely what they are teaching.
Updated functionality also displays more detail about types of tests so teachers can administer the right test at the right time. It's as easy as selecting a test!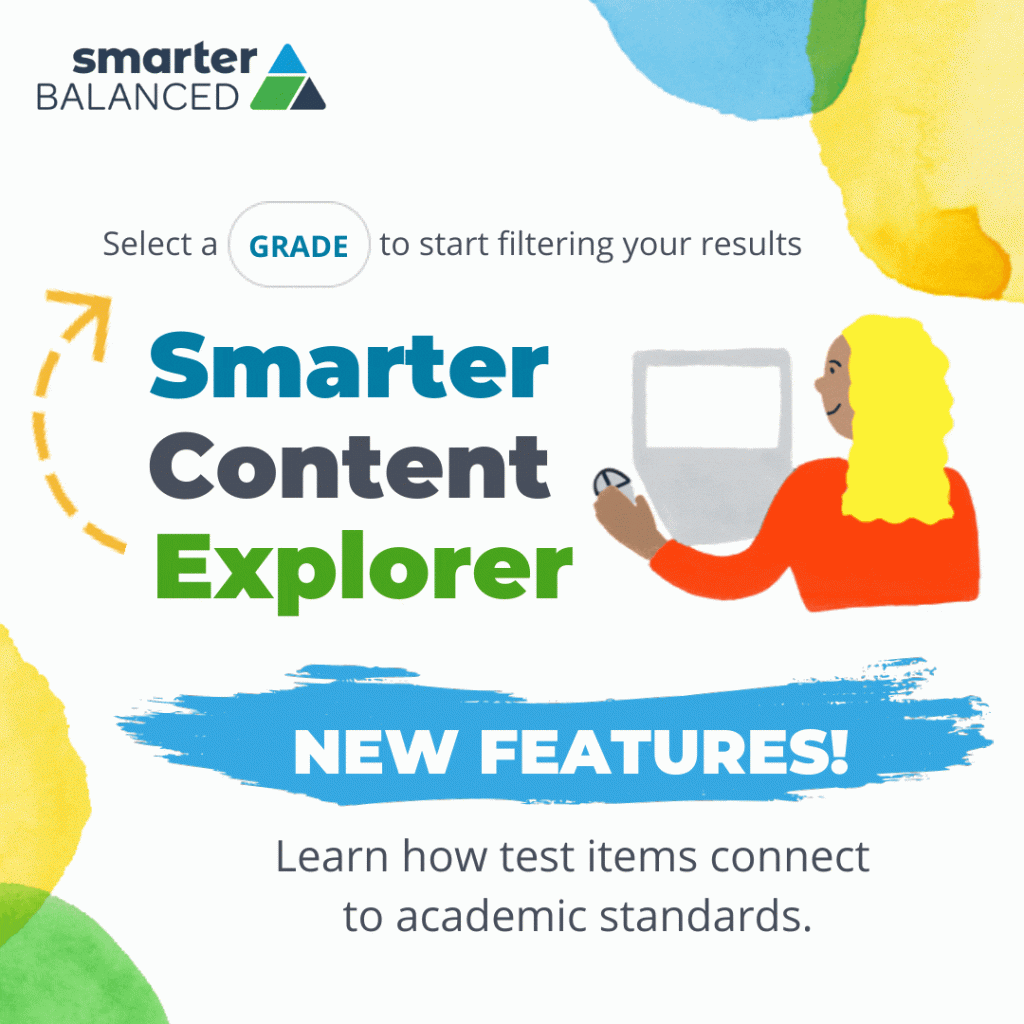 Choose Your Own Test Content Adventure
The updated Smarter Content Explorer provides many ways to explore the content of Smarter Balanced tests. The path you choose depends on what you need to know. Here are a few examples:
Do you want to understand exactly what students need to know when they take the different types of Smarter Balanced tests: summative, interim comprehensive assessment (ICA), interim assessment block (IAB), or focused interim assessment block (focused IAB)?
THEN

Select Grade > Subject > Test > What's on the Test to see what learning targets are assessed by that test.

Do you need to find a test that assesses a specific learning target (or set of standards) and is aligned with your curriculum?

THEN

Select Grade > Subject > Claim > Target (or Standard) > Results > More > Test to view summative and interim tests that assess this target. (Tip: you can also see a sample item for this target that you can use with your students!)

Do you want a deeper understanding of the targets and what students should be able to demonstrate at different achievement levels? Or perhaps you would like to review task models that are templates for how a test item should be written so that a student can show mastery of skills and understanding?
THEN

Select Grade > Subject > Claim > Target (or Standard) > Results > More > and scroll down or use the horizontal jump menu to explore detailed topics.
How Smarter Content Explorer Supports Teaching and Learning
This year, more than ever, learning checks will be a helpful tool in pinpointing where students are in their learning. Smarter Content Explorer can help teachers know which interim assessment is right for their learning progression.
Understanding the content assessed by Smarter Balanced tests at a deeper level can help teachers align instruction to state standards more effectively, so students learn on pace and meet grade-level expectations.
Start exploring test content today at contentexplorer.smarterbalanced.org.
Coming Soon! 38 New Focused Interim Assessment Blocks
During summer 2021, Smarter Balanced will release 38 new focused Interim Assessment Blocks (focused IABs) giving teachers even more resources for checking learning and planning instruction. Updates to Smarter Content Explorer allow educators to explore the details of all 118, fully accessible, focused IABs.
---
About Us
Smarter Balanced is a public agency currently supported by its members. Through the work of thousands of educators, we created an online assessment system aligned to college and career ready standards, as well as instructional resources for educators to help them improve teaching and learning. Smarter Balanced is housed at the University of California Santa Cruz Silicon Valley Extension.
Press Inquiries
For interviews with Smarter Balanced staff or questions about tools and resources for news stories, email Chris Barron, Senior Director of Communications and Public Affairs at media@smarterbalanced.org.