Smarter Scores for College
New collaboration between higher education and K–12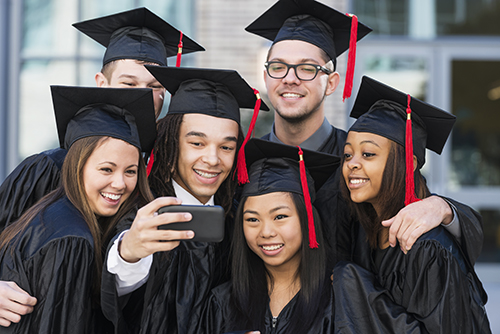 Across the country, Smarter Balanced states have been notifying high schoolers and their parents how they can use their Smarter Balanced test scores for college. The basic message: high school students who take the test in 11th grade now have an opportunity to jumpstart their college coursework and bypass remedial courses.
In a first for many states, students can use their Smarter Balanced scores to learn whether they are on track to be ready for college courses. Their test results can also indicate their relative strengths and areas that they need to work on in Grade 12 to bypass developmental courses that won't count toward a degree. So far, more than 200 colleges and universities in seven "early adopter" states have agreed to accept scores for this purpose. This new collaboration between higher education and K-12 not only benefits students but also demonstrates higher education's support for both the Common Core State Standards and the Smarter Balanced assessments. When a student scores at Level 3 or 4 on the Smarter Balanced assessment, they have the assurance that they are on track to be ready for college.
Colleges and universities in seven states—including Washington, California, and Oregon—have agreed to use Smarter Balanced scores. Higher education officials are actively working to make sure parents and students know about this opportunity. "Ultimately, we want every child and parent to understand how taking academically rigorous courses will help them prepare for successful futures in college and careers," said Carolina Cardenas, Director of Academic Outreach & Early Assessment at California State University (CSU).
Although California has had a voluntary readiness test for students since 2004, the move to accept the Smarter Balanced score ensures that all students know how prepared they are for college. And, taking the Smarter Balanced assessment in grade 11 allows students to know where they stand early enough so they can use their senior year more proactively to further prepare for college.
CSU, as well as higher education systems in each "early adopter" state, has been working to educate students and parents by creating guides that explain the connection between Smarter Balanced and college. The response has been overwhelmingly positive.
In Washington, higher education has been working with partners such as the Ready Washington Coalition to educate students and parents about the benefit of the Smarter Balanced test for college. Washington included information about higher education partnerships in the score reports that parents and students receive. Similarly, higher education officials in Oregon have been communicating how students should go about using their Smarter Balanced scores.
Smarter Balanced test scores at all grades provide important information to parents, teachers, and school systems. But these new higher education policies ensure that Smarter scores benefit students even more and ease the transition from high school to college.