Summer Reading List for Students to Celebrate LGBTQIA+ Stories and Characters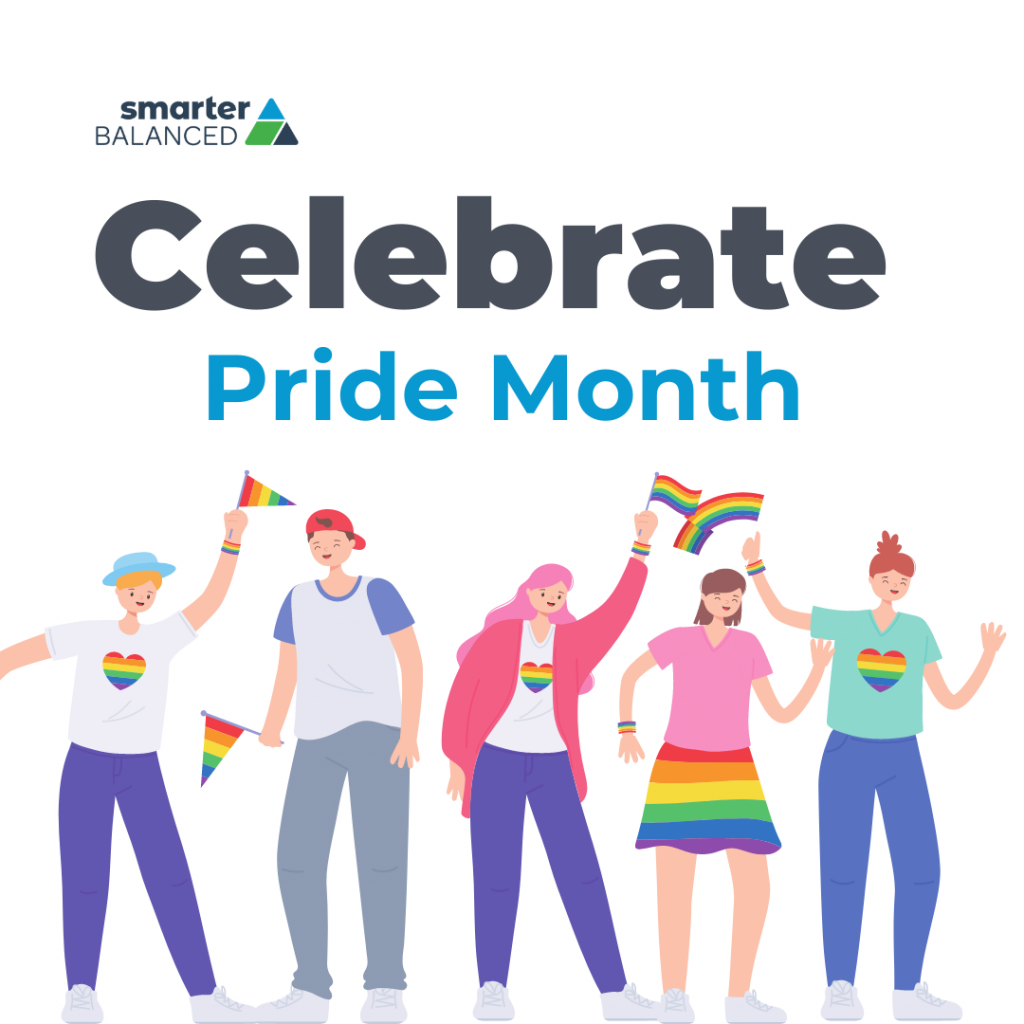 Smarter Balanced is celebrating Pride Month this year (June 2022) with a list of books you can share with your students searching for stories to read over the summer.
Sharing books that incorporate LGBTQIA+ characters and/or written by LGBTQIA+ authors helps students become aware and advocate for others who, just like them, share common values, beliefs, and traditions. It also supports advocacy for equality and creates safe spaces for discussion when students know their teacher supports all students.
Pride Month is observed every year to commemorate the Stonewall riots — celebrating LGBTQIA+ people who've made an impact on the effort to make the world more inclusive. Dive into the PBS toolkit for educators to help you better understand LGBTQIA+ identities.
According to the American Federation of Teachers (AFT), research shows that students exposed to LGBTQIA+ topics have a more positive learning environment and states that "75.2 percent of LGBTQ students in schools with an inclusive curriculum said their peers were accepting of LGBTQ people, compared with 39.6 percent of those without an inclusive curriculum."
The following books celebrate LGBTQIA+ characters, stories, authors, and inclusive content — organized by grade levels 3–12.
Elementary School Grades 3-5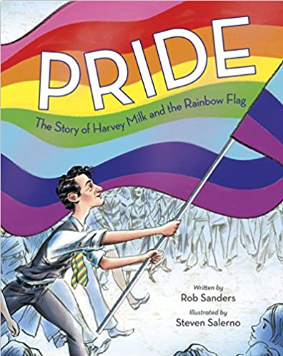 Pride: The Story Of Harvey Milk And The Rainbow Flag
by Rob Sanders
Publisher Description
The very first picture book about the remarkable and inspiring story of the Gay Pride Flag! In this deeply moving and empowering true story, young readers will trace the life of the Gay Pride Flag, from its beginnings in 1978 with social activist Harvey Milk and designer Gilbert Baker to its spanning of the globe and its role in today's world. Award-winning author Rob Sanders's stirring text, and acclaimed illustrator Steven Salerno's evocative images, combine to tell this remarkable – and undertold – story. A story of love, hope, equality, and pride.


The Misadventures of the Family Fletcher
by Dana Alison Levy
Publisher Description
Meet the Fletchers. Their year will be filled with new schools, old friends, a grouchy neighbor, hungry skunks, leaking ice rinks, school plays, wet cats, and scary tales told in the dark!

There's Sam, age twelve, who's mostly interested in soccer, food, and his phone; Jax, age ten, who's psyched for fourth grade and thinks the new neighbor stinks, and not just because of the skunk; Eli, age ten (but younger than Jax), who's thrilled to be starting this year at the Pinnacle School, where everyone's the smart kid; and Frog (not his real name), age six, who wants everyone in kindergarten to save a seat for his invisible cheetah. Also Dad and Papa.
The Elephant's Girl
by Celesta Rimington
Publisher Description
A magical adventure for fans of Katherine Applegate and Jennifer Holm about a girl with a mysterious connection to the elephant who saved her life.

An elephant never forgets, but Lexington Willow can't remember her past. Swept away by a tornado as a toddler, she was dropped in a nearby Nebraska zoo, where an elephant named Nyah protected her from the storm. With no trace of her family, Lex grew up at the zoo with her foster father, Roger; her best friend, Fisher; and the wind whispering in her ear.

Years later, Nyah sends Lex a telepathic image of the woods outside the zoo. Soon, Lex is wrapped up in an adventure involving ghosts, lost treasure, and a puzzle that might be the key to finding her family. Can Lex summon the courage to discover who she really is–and why the tornado brought her here all those years ago?
Middle School Grades 6-8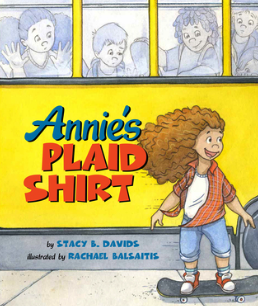 Annie's Plaid Shirt
by Stacy B. Davids
Publisher Description
Annie loves her plaid shirt and wears it everywhere. But one day her mom tells Annie that she must wear a dress to her uncle's wedding. Annie protests, but her mom insists and buys her a fancy new dress anyway. Annie is miserable. She feels weird in dresses. Why can't her mom understand?

Then Annie has an idea. But will her mom agree?

Annie's Plaid Shirt will inspire readers to be themselves and will touch the hearts of those who love them.
The Whispers
by Greg Howard
Publisher Description
Eleven-year-old Riley believes in the whispers, magical fairies that will grant you wishes if you leave them tributes. Riley has a lot of wishes. He wishes bullies at school would stop picking on him. He wishes Dylan, his 8th grade crush, liked him, and Riley wishes he would stop wetting the bed. But most of all, Riley wishes for his mom to come back home. She disappeared a few months ago, and Riley is determined to crack the case. He even meets with a detective, Frank, to go over his witness statement time and time again.
Totally Joe
by James Howe
Publisher Description
Joe may only be twelve-going-on-thirteen, but he's known who he is from the time he was a little kid tottering around in his mother's high heels. Now in the seventh grade, he wears green high tops with pink trim, has a (secret) boyfriend, and tells it all from A to Z in the alphabiography assigned by his favorite teacher. The thing is, some of it is seriously private. It's one thing for Mr. Daly to read it, but what if it falls into the wrong hands? Will he be teased forever about those high heels…and even worse, what will happen if his secret boyfriend is no longer a secret?
High School Grades 9-12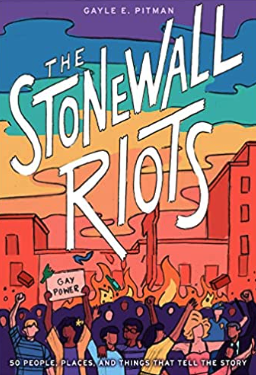 The Stonewall Riots: Coming Out in the Streets
by Gayle E. Pitman
Publisher Description
This book is about the Stonewall Riots, a series of spontaneous, often violent demonstrations by members of the gay (LGBTQ+) community in reaction to a police raid that took place in the early morning hours of June 28, 1969, at the Stonewall Inn in the Greenwich Village neighborhood of Manhattan, New York City.

The Riots are attributed as the spark that ignited the LGBTQ+ movement. The author describes American gay history leading up to the Riots, the Riots themselves, and the aftermath, and includes her interviews of people involved or witnesses, including a woman who was ten at the time. Profusely illustrated, the book includes contemporary photos, newspaper clippings, and other period objects. A timely and necessary read, The Stonewall Riots helps readers to understand the history and legacy of the LGBTQ+ movement.
Zara Hossain Is Here
by Sabina Khan
Publisher Description
Seventeen-year-old Pakistani immigrant, Zara Hossain, has been leading a fairly typical life in Corpus Christi, Texas, since her family moved there for her father to work as a pediatrician. While dealing with the Islamophobia that she faces at school, Zara has to lay low, trying not to stir up any trouble and jeopardize their family's dependent visa status while they await their green card approval, which has been in process for almost nine years.

But one day her tormentor, star football player Tyler Benson, takes things too far, leaving a threatening note in her locker, and gets suspended. As an act of revenge against her for speaking out, Tyler and his friends vandalize Zara's house with racist graffiti, leading to a violent crime that puts Zara's entire future at risk. Now she must pay the ultimate price and choose between fighting to stay in the only place she's ever called home or losing the life she loves and everyone in it.
Queer, There, and Everywhere: 23 People Who Changed the World
by Sarah Prager
Publisher Description
World history has been made by countless lesbian, gay, bisexual, transgender, and queer individuals — and you've never heard of many of them. Queer author and activist Sarah Prager delves deep into the lives of 23 people who fought, created, and loved on their own terms. From high-profile figures like Abraham Lincoln and Eleanor Roosevelt to the trailblazing gender-ambiguous Queen of Sweden and a bisexual blues singer who didn't make it into your history books, these true stories uncover a rich queer heritage that encompasses every culture, in every era.
If you're looking for a wider variety of LGBTQIA+ books, we recommend the Scholastic LGBTQIA+ book list for grades Prek-12, published on June 11, 2021.