Three Steps to Incorporating Juneteenth Learning in the Classroom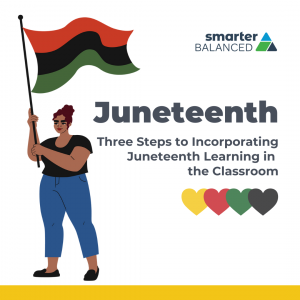 On June 19, 1865, a Union general named Gordon Granger arrived in Galveston, Texas, declaring that the Civil War was over and enslaved African Americans were free. This announcement solidified President Abraham Lincoln's 1863 Emancipation Proclamation two and a half years later.
During Juneteenth, also known as "Freedom Day," "African American Independence Day," and "Jubilee Day," we celebrate formal Black emancipation from the institution of slavery and recognize the struggles of all those enslaved and formerly enslaved in their fight for freedom.
While formally, U.S. slavery ended, it's essential to recognize the consistent efforts needed to amplify African American voices to support racial equity in America. We hope the following resources help support your summer planning and inspire you to motivate your students to build and sustain change for a more inclusive future for all.
Step 1: Build Your Understanding
Learn about Juneteenth, what it represents, what it means for the Black community, and why your role as an educator can shape students' understanding of United States history.
Step 2: Design Your Approach
Promote Juneteenth learning in the classroom to celebrate equality and create safe spaces for discussion.
Step 3: Use Great Lessons
Use these powerful lessons centered around Juneteenth to highlight the struggle for Black emancipation and the holiday's national recognition.