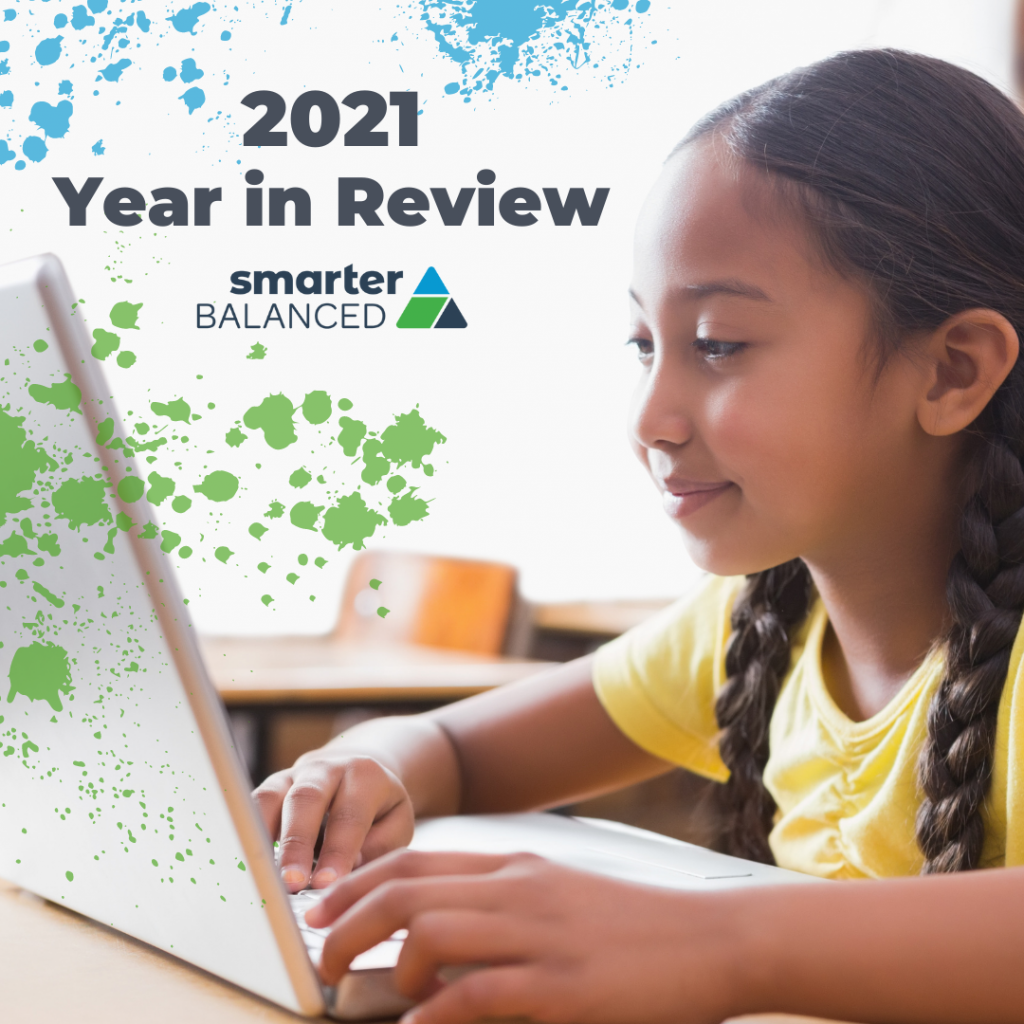 As we move forward into 2022 and think back to 2021, we recognize the incredible strides made by teachers, students, and parents as the world continues to navigate change and challenges.
Although 2021 came with more obstacles, we were better prepared to face them. Smarter Balanced focused its efforts on its member states and their educators — emphasizing new tools, updates, and resources to better support teaching and learning.
2021 Updates and New Resources
During 2021, Smarter Balanced provided enhancements and updates to resources and tools that teachers could use to improve student learning:
Tools for Teachers Social-Emotional Learning Modules for Professional Development: Smarter Balanced partnered with the Parent Institute for Quality Education (PIQE) to release new professional learning resources, which help educators support the social-emotional learning needs of their students as part of a successful academic school experience. Each module on social awareness, self-management, and self-awareness is available on Tools for Teachers.
Tools for Teachers: In September 2021, Smarter Balanced celebrated the one-year anniversary of Tools for Teachers, a website of instructional and professional learning resources for educators.
Sample Items Website and Smarter Annotated Response Tool (SmART) Updates: Smarter Balanced released nearly 100 questions from Smarter Balanced tests on the Sample Items Website to help students become more familiar with question formats. Also, Smarter Balanced added one additional performance task per grade to SmART — giving teachers more insight into how writing is scored on Smarter Balanced tests. 
Tools for Teachers Resource Landing Pages "Quick Guides": Newly released resource landing pages or "quick guides" provide different resources and strategies in Tools for Teachers. Each quick guide is a central location for information, implementation tips, professional learning, and connections to Smarter Balanced companion tools and resources.
Desmos Calculator Updates: Smarter Balanced updated its Desmos calculators website with new content and Smarter Balanced branding. 
Remote Teaching and Learning Website Updates: Smarter Balanced redesigned its Remote Teaching and Learning Website to better support educators during virtual learning.
Smarter Content Explorer Updates: Smarter Balanced released 38 new focused Interim Assessment Blocks (focused IABs) on Smarter Content Explorer — giving teachers even more resources for checking learning and planning instruction. Updated functionality also displays more detail about types of tests. 
Virtual Events: Smarter Balanced hosted internal virtual workshops for the second year in a row. Through creative collaboration and technology, we successfully assembled our dedicated team of SNEs (State Network of Educators) to create instructional resources, review items, and more.
Starting Smarter Updates: Member states' Starting Smarter pages received new content and resources to help parents better understand their child's score reports. 
Instructional Supports Videos: Smarter Balanced released two new informative videos "Get to Know Tools for Teachers" and "Get to Know Smarter Content Explorer," which take a deeper dive into the tools available in our system of instructional supports. 
Smarter Balanced would like to say a special thanks to teachers for your valiant, collaborative efforts in 2021 that helped us produce high-quality supports for educators.