Celebrating 10 Years of Collaboration
Smarter Balanced Honors Consortium Members and Educators for their Dedication to Developing High-Quality Measurement Tools and Instructional Supports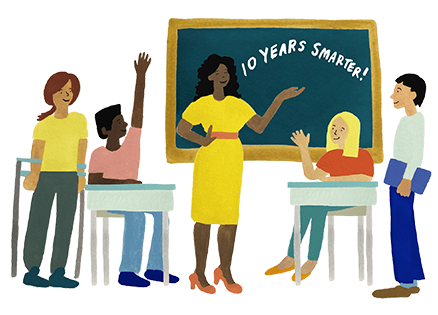 Thank you, educators! As we celebrate Smarter Balanced's 10th anniversary, we honor your work and the collaboration of hundreds of educators to build a fair, accurate system to measure what our students know and can do.
And this is only one facet of what we have achieved. We recognized from the beginning that measurement is more powerful when we pair it with instructional support. This year, we worked with members to launch Tools for Teachers, a comprehensive source for teacher-created, standards-aligned lessons that include accessibility and formative strategies. The suite of Smarter Balanced resources is designed to be flexible, which is necessary as we face new challenges of teaching and learning this year. This is only possible because of our ongoing collaboration and should take time to celebrate these accomplishments. 
From our beginning in 2010, Smarter Balanced has been built on collaboration and providing teachers with reliable, accessible, and efficient ways to measure student progress toward college and career readiness. Educators have been the driving force behind how Smarter Balanced develops tests and instructional resources. Teachers are the experts who know what matters and is needed in the classroom to advance learning.
To honor the occasion, we have launched a redesigned website and new branding, including a logo that honors the past and looks toward an exciting future. The new Smarter Balanced website makes it easier to access and find information about our resources. It highlights the impact of its members and teachers over the past 10 years in developing the most advanced, accessible, and equitable assessment system.
A key feature of the new website is an interactive timeline where you can see the powerful contributions that educators have made to continuously improve Smarter Balanced assessments since 2010. Explore highlights and milestones around key themes including: A Smarter Assessment System, Smarter Innovation, Tools for Teachers, Supports for Students, and the Power of Collaboration.
Now is the time to be thinking differently about teaching and learning. Teachers need high-quality, accessible, and flexible resources that support the learning experiences of each student, either in the classroom or virtually. Through this new website and its many resources, including Tools for Teachers, we're here to support you!
Thank you for all of your hard work this year to help your students succeed amidst trying circumstances. As we look toward the future of education, we look to you to help build a better, more equitable and accessible system that helps all students succeed.
---
About Smarter Balanced's 10-Year Anniversary
Since 2010, Smarter Balanced has worked in partnership with state education agencies, districts, schools, and educators to develop a high-quality comprehensive assessment system that is designed to support instruction and boost student learning. 2020 marks a decade of collaboration and we thank our members and all the educators who have come together to help build an equitable, accessible assessment system that includes instructional support as a key element. We celebrate this work, this collaboration, as it is truly a commitment to student learning.
Visit our interactive timeline to learn more about Smarter Balanced's history of impact.