Ten Smarter Tools for Ten Years
Smarter Balanced Celebrates a Decade of Supporting Educators
Building web-based applications to support teaching has been part of Smarter Balanced's mission from the beginning. We heard loud and clear that high-quality assessment requires equally high-quality support in the classroom to ensure student learning goals are aligned with state academic standards. The challenging work of teaching is easier when everything is aligned–instruction (individually and among teams), goals, standards–and students are empowered and engaged.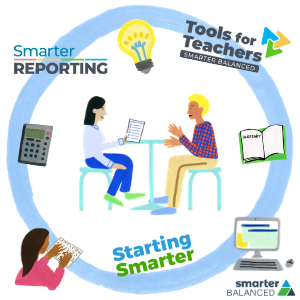 As we celebrate our 10th anniversary, we would like to thank our members and the hundreds of educators who have contributed to designing and building the most flexible, accessible, and comprehensive suite of instructional supports available. Here are ten tools (from among many), we'd like to highlight (and celebrate!):
BONUS: Coming soon! Smarter Annotated Response Tool (SmART)
What would an anniversary be if we didn't also look forward, eagerly, for what is yet to come? Our newest tool will be released in fall 2020 and supports writing instruction by helping teachers understand how student writing is scored on Smarter Balanced assessments. Browse a range of response types, explore interactive scoring rationales and rubrics, and practice scoring on your own or with colleagues. All in one beautifully designed site!
---
About Smarter Balanced's 10th Anniversary
Since 2010, Smarter Balanced has worked in partnership with state education agencies, districts, schools, and educators to develop a high-quality comprehensive assessment system that is designed to support instruction and boost student learning. 2020 marks a decade of collaboration and we thank our members and all the educators who have come together to help build an equitable, accessible assessment system that includes instructional support as a key element. We celebrate this work, this collaboration, as it is truly a commitment to student learning.
Visit our interactive timeline to learn more about Smarter Balanced's history of impact.